Leo – Cute little male Chihuahua, approx. 4 years, 13 pounds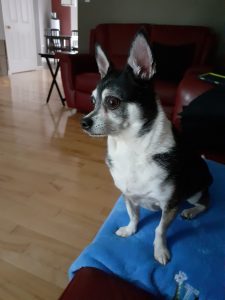 LOVELY BOY WHO NEEDS THE RIGHT OWNER
EXPERIENCED DOG PERSON NEEDED, NO KIDS, NO OTHER ANIMALS, LEO JUST NEEDS TIME TO FEEL SECURE AND TRUST IN HIS NEW OWNER AND HE'LL BE THE BEST PET!
Léo is a calm and cuddly sweet dog, but his nipping level can be high at first, as he is fearful, so he needs an experienced and patient forever-owner.  Preference will be given to local adopters in Ottawa-Gatineau area with dog experience, adult-only household, no other animal, willing to come out for several meet and greets with Leo prior to adoption to ensure fit and are willing to give him a good adaptation period of at least 2-4 weeks. 
You will need to be patient with him and learn to read and respect his fear level, otherwise he could nip. When you succeed (within a few weeks), you will have the most precious and non-demanding dog that loves to cuddle with you.
Although a calm dog, Leo also loves his squeaky toys and can play fetch for a long time.
Leo is housebroken (outside during the day & peepad at night).
He is good on leash. Does not spook easily. He can walk up to 3 km at a time, weather permitting. Once he is comfortable with you, off leash, Leo will stay around the house as he's not a bolter.
He barks when someone comes in, but once he approves of them, he loves the company.
Leo adores going for car rides in his dog booster seat.
Leo understands French.
Leo needs to be protected from things that might make him uneasy and nervous. It's important that he is adopted out into the right furever home that can manage behaviours that may be there for a lifetime. Would you like to meet this sweet boy? He is looking for a patient dog owner who would provide him with a quiet and secure home.