To apply for a dog featured on the Minpinerie page please submit the application form below.
If you don't see a dog that fits your home, please submit an application form and we will keep it on file. This is highly encouraged because when a dog comes to the rescue that matches a family and home we will call the applicant to try and match the dog without sharing an online profile. The applications on file not only enables us to match dogs with families quickly but it allows us to match dogs and families with specific needs. Please note it is our policy that we do not adopt out unaltered dogs and we do not adopt dogs out to homes with unaltered pets. Having fixed pets demonstrates that you are a responsible pet owner who has the financial means to take care of a pet.
If you are having difficulties filling out the form please download this document (Word document), fill it out, and email it to loulouonline@rogers.com when completed.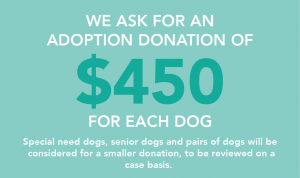 To adopt a dog from the Minpinerie we ask for the above adoption donation.
The adoption donation is essential for the Minpinerie to continue to provide care to dogs and helps contribute to a small fraction of the cost of rescuing a dog. Your adoption donation is put towards transportation, microchipping, food, vaccinations, deworming, medication, other vet care, leashes/collars and numerous other essential operational needs.
Please see our FAQ for additional information regarding the adoption application process.