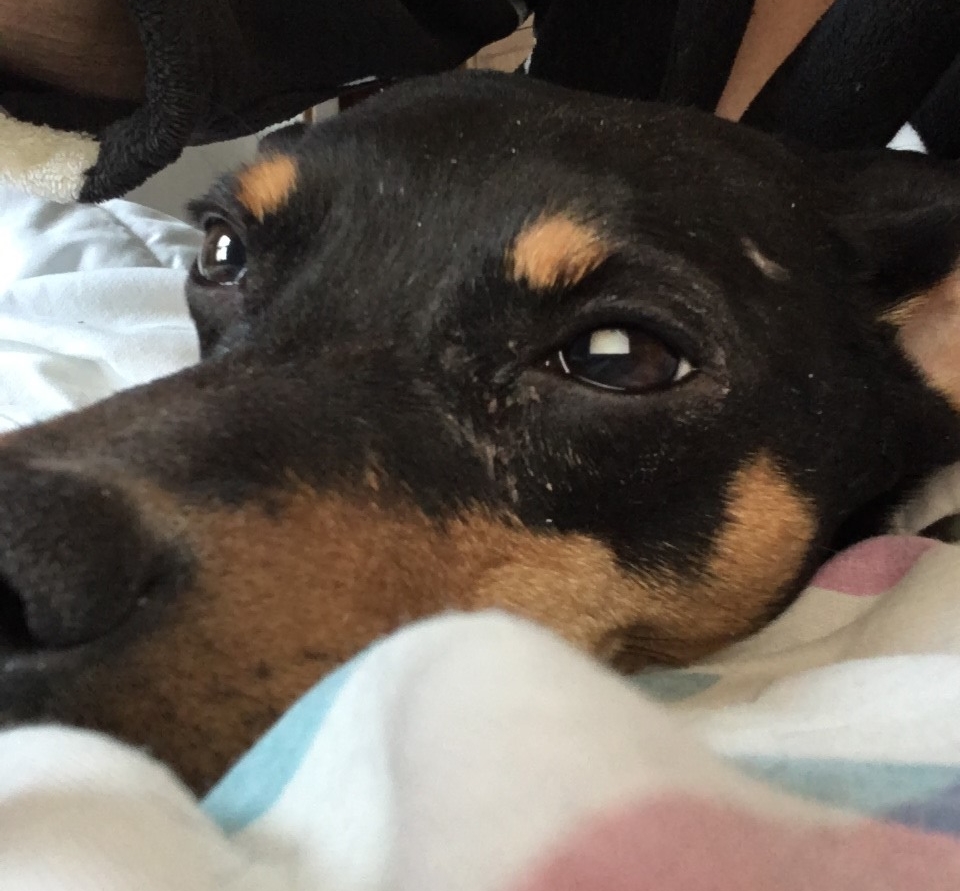 Louie was adopted by Nancy Thompson.  "Thank you Louise for finding Lou for me.  A rough beginning in Louie's life. He was tied on a balcony then he went to a couple of homes, then turned into the shelter.  Louie has had a tough time, but he's my heart dog. When we picked him up, we drove to gas station and Louie cried when I stepped out of the car.  He acted like I had been his owner all his life.  Lou is so loving and my wonderful heart dog. Thank you everyone at Minpinerie. He's as happy as I am to be here in his forever home."
Lilly was adopted by Jaimee and her family in December 2018! Congrats to Lilly!!!! Along with Lilly in the second shot on the couch (and new Dad's lap) are big brothers Jasper and Cuddles.  Lilly had lost her home and family due to no fault of her own. She needs an active family, is smart and gets very excited. Apparently, in the summer, she LOVES bike rides in a child bicycle trailer!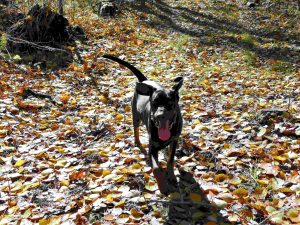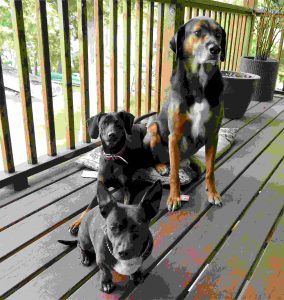 Tewksy –  "Beau" was adopted from Minpinerie almost a year ago, after having been re-homed several times.  His Mom Wendy says "At a year old he was extremely active and had quite a bit of anxiety.  After several months he began to feel secure again, and with daily exercise off leash, he calmed down and is keen to learn new things.  His favourite thing to do is to run in the woods with Boomer, one of his two siblings.  He has terrific recall and he adores his pack, and his humans.  Although he was meant to be a foster we could not imagine him fitting in as well as he did with his new pack in the country. He is our second dog from Minpinerie, and our third rescue.  "Beau" was renamed Tewksbury after the Canadian gold medalist Mark Tewksbury, and he is a huge fan of the water and loves living on a lake. As foster parents of 25 previous dogs, we knew right away that Tewky understood exactly where he fit into the pack.  Grooming his siblings, and knowing he never gets first crack at the bowl that needs licking, they appreciated having him to cuddle with and play with. For anyone wanting to foster or adopt, you are saving a life, by making room for one more dog to be rescued.  It takes a little bit of patience and a lot of commitment, but every dog has the potential to learn.  Our advise is that it takes at least a month to know how a dog fits into your home.  Tewky has overcome his anxiety, and he has so much to give back.  Rescuing for us has been so rewarding. Minpinerie is an exceptional rescue.  They go above and beyond to ensure the dogs have proper veterinary care and proper placement.  They do not discriminate by breed, contrary to their name.  I recommend them to anyone looking to adopt, and thank you for opening your heart to rescue!" Thank you to your and your family Wendy! This is wonderful!
Beau was adopted by Nancy and her family and is lucky enough to have a cabin in the USA!! Nancy says "These, like the photo of Beau and my daughter in a hammock, are at the family cabin in Vermont.  You can see from the 2nd photo that Beau and my cat, Cica, have learned to peacefully coexist. Beau loves being at the cabin, which is on a lake – but he won't swim! He can run free there, hang out with my cousins' dogs, look at the loons on the Lake, get confused by the jumping frogs and toads, chase squirrels, sleep in the sun on the dock….

And life in Ottawa is pretty good too!" Great to hear!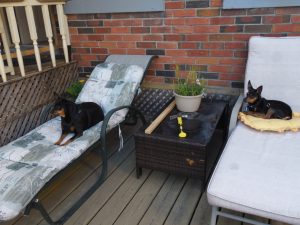 MaBelle's Mom Donna proudly says "Jack is registering MaBelle as a service dog ( emotional therapy ) so he is looking forward to having her little vest and ID card. She's a very happy loving dog. 🐶🎶 Jack walks her a lot when it isn't too hot. She loves to play musical beds, soon as one person is awake she goes in search of someone who is still asleep to cuddle up with. Her exuberant welcome has calmed down to normal now. She's got the routine down pat now, she knows he is coming back every chance he can get. Some nights she reminds him it's past bedtime, lol."
Tyson was adopted in 2015, but his owner became ill. Tyson stayed with Linda for a while and when his owner decided she could no longer care for him, Linda stepped in again, this time as a foster for Tyson. " Seven months later, May, 2017, I adopted Tyson. This feisty little guy is very much a part of my menagerie of animals.   I have a dog sitting and dog walking business where up to 8 dogs can be staying in my home (this includes my three).   Everyone learns quickly that Tyson rules the household. Tyson is very happily sharing life with me and my other animals; Diego, 10 year old Black Lab, Bear, 12 year old Shepherd and Kittan, 9 year old calico cat." We hoped Tyson would have a happy life – thank you!!!!!
Sadie – Fern says "On Tuesday, May 1st, it was 2 years since Sadie came home.  She is doing very well.  I thought I would give you some info on her. In July she had the surgery on her right back leg which has worked out great.  She had four months of slow activity and massage and leg exercises three times a day.  By then it was winter so her pace was slow since she still does not like the cold weather.  Once in a while she will walk on three legs for a couple steps.  I have to work on building up her leg muscles again over the summer.  We usually go for three short walks each day.   I am trying to keep her weight at 16 – 17 pounds.  At breakfast and supper time she just bounces to her dish when I get her food bag out.  Nice to see.  She enjoys being out in the yard or sunning herself on the porch now that the weather has improved." So nice to hear this story two years later!!
Frodo – Beth says "Just wanted to update you on Primo, now known as Frodo.  He has settled in well and has been  very good  at being outside without a leash while at home. He loves his walks and as we live in the country he is able to be off leash on part of our walks through the bush as well. He has lost a significant  amount of weight and no longer looks like a haggis on legs. We have gone to obedience classes and it was obvious by his performance that he had been through this before. I needed the training however and we both passed. Frodo now has a friend from next door who he grooms when she comes to visit. Izzy is a 12 year old lab with severe arthritis in her legs." Lovely to hear that he's got such a great life!
Lou – Nancy says "Here's one of my photos of Lou in bed waking in the morning he's favorite place beside me. I want to thank you you Louise for finding Lou, my little partner. He is my shadow my constant companion. We love each other.  When we picked him that second in the car, he bonded so strongly, he knew I needed him.  To this day, my husband says I never realized a little dog could bond in a short time so strongly.  You knew best Louise, as I had called about another dog and you called back and said 'I found your dog for you.' Thank you Minpinerie once again." Louise, our adoption co-ordinator says "I am so happy for you and for my little namesake Louie (Lou). Thank you for your kind words. To think this little guy was in a shelter and nobody wanted him, till he came to Minpinerie. I just know, he travelled the journey he did so he could end up in the dream destination he was meant to be. Your words warmed my heart and your photos made me tear up a little. Thank you."  This was a little guy that was turned in for barking too much on the balcony where he spent a good part of his day alone, he was just waiting for a person to be with him, to follow, to love…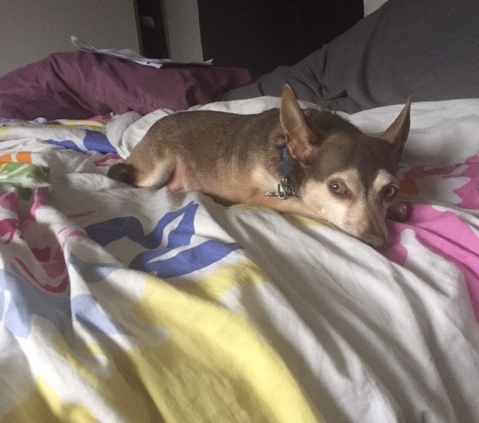 Bella – Simi says "I just wanted to let you know how Bella is doing. She's a total snuggle bug. I almost can't take a picture of her by herself because she always wants to snuggle. Her coat is soft and thick now. She has gained a lot of trust and is the sweetest dog. She has even started barking at people! She loves every other dogs she meets and she makes us all smile even though she wakes us up like a newborn. Thank you for rescuing her."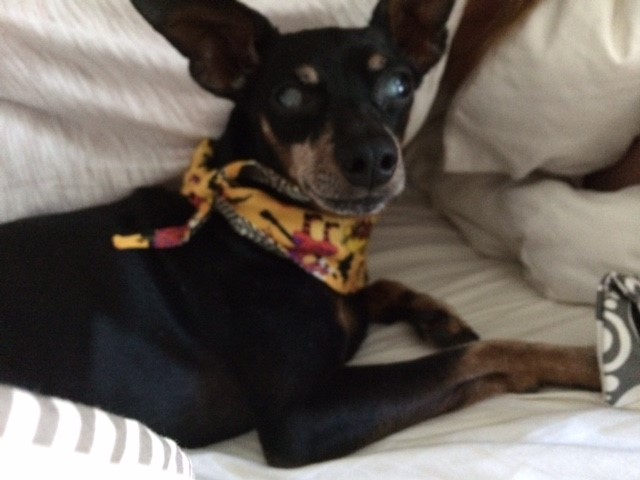 T-Bone – Ann says "Hello there!! T-Bone is about to experience his third Halloween with us! We're so blessed to have adopted this senior gem who has become such a huge part of our family and hearts. My older daughter just moved out and is now looking to adopt too! Thank you for rescuing T-Bone and for all of the work you do for these adorable home-worthy pups. XOXOXO" Lovely to hear that this senior found love!!
Vanilla Bean – Megan says "I hadn't planned on adopting when I first started volunteering for the Minpinerie Rescue… but meeting Vanilla Bean seemed to be kismet! I think she knew that we were meant for each other that first walk because she did not leave my side. As I'm writing this now she's curled up beside me sleeping after a long day of walking, playing and swimming. Vanilla Bean truly is the perfect dog for me, and I would have never realized that if I hadn't met so many wonderful dogs prior to her throughout the time I've spent volunteering for this incredible rescue. In an attempt to give her half of what she's given me, I promise to always give her the exercise, patience and love she needs to continue to be one of the funniest, most amazing little dogs I've ever met."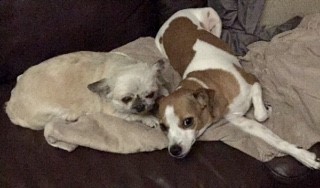 Honey – Helene says "We adopted Honey (previously named Moo Moo) in June 2017.  At first Honey did not want to share her affections with anyone except for me but now she spends lots of happy quality time with Lulu (pictured on the left) and my husband.  As her new name implies, Honey is a sweet girl who enjoys chilling-out as much as exercising.  Honey is my running partner and my good-morning sunshine.  A BIG thank you to all at the Minpinerie for saving Honey and making it possible for her to join our family!"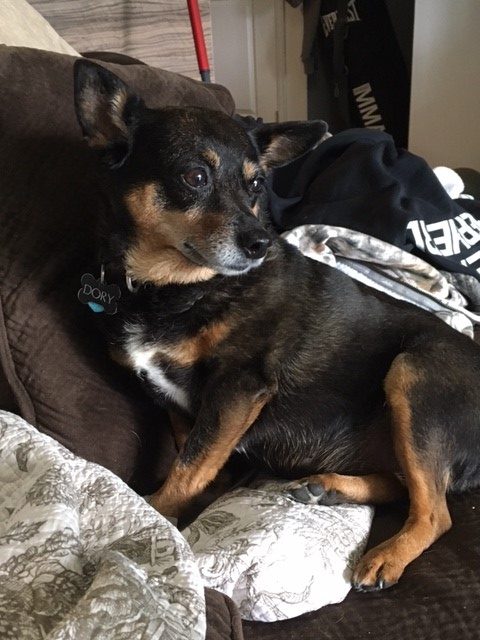 Dory – Rebecca says "I adopted Dory (was Mattie) back in May. I lost my minpin Dutch after 17 years late last year and my current boy, Duke and I were finally ready to invite a new dog home. We took a chance on Dory and she's truly become the pushy queen of the castle. Eats everything in sight and an absolutely love bug. Duke will never admit it but he's happy for another trouble maker to go adventuring with." 
Frankie is a Parson Russel terrier who came to Minpinerie from the USA in 2017. He was adopted by Treena and Mark and Minpinerie alumni Buttercup and the family cats. Treena says "He loves his sweater in the cool weather. He loves snuggling with Buttercup all day, loves any kind of snack, loves digging for chipmunks and does not enjoy coming when called (when in the chipmunk 'zone'). He throws a lot of heat, which is great in the winter on the couch or in bed!"